In the news this month...

Meeting agenda

Reminders

Fundraising

Membership

Brags

Litterbox

Upcoming events

Reminders....

Dues are due!!!

MEMBERSHIP

none this month

FUNDRAISING

Fundraising as always continues.  Cindy Burianek, our fundraising chairperson has suggested that we have another ex-pen raffle but in a grander style.  She plans to raffle an ex-pen, grooming table and set of clippers as supersized raffle!  Contact Cindy for more details

Any other ideas for funraising should be mentioned to Cindy.

At the annual awards banquet and meeting, the new officers for the 2003 year were elected.

President - Shannon McCracken

Vice President - Cindy Burianek

Treasurer - Wendy Shepard

Secretary - Joan Kunkle

Board of Directors:

Emily Burch

William Burch

Mary Costello

James Costello

Kim Weber

BRAGS...

Please pass the word about those pups you are proud of.   It is hard to know who to congratulate if you don't share those wins. 

Some wins that I know about include....

Hanlin

JJ won another placement in Jr Handling!

Barrel Valley

Ravenna: Wynnie won WB 1 point.  This singles her out!

Back Mountain: Bull won WD for a 3 point major!

Tori won WB for 2 points AND Cracker won BOS for her first time back in the ring for more than 2 years.

Lehi

Ravenna: Denver won a group 1 and 2!

Back Mountain: Denver won BOV two days and at least one group placement!

WEBSITE

Please take the time to check out and or suggest changes at our club's website.

Also notice that several pages allow/encourage you to leave contact information for visitors.  Send me (
Shannon
) and e-mail stating which pages you would like to be included on.
Especially these pages... Breeders and Membership

If anyone would be willing to be editor on the following pages which have not been finished yet, your help would be welcome.

I have been thinking that we could add a field page.  Would anyone like write the text for such a page?

Send any tidbits that you think could improve our site to
Shannon
.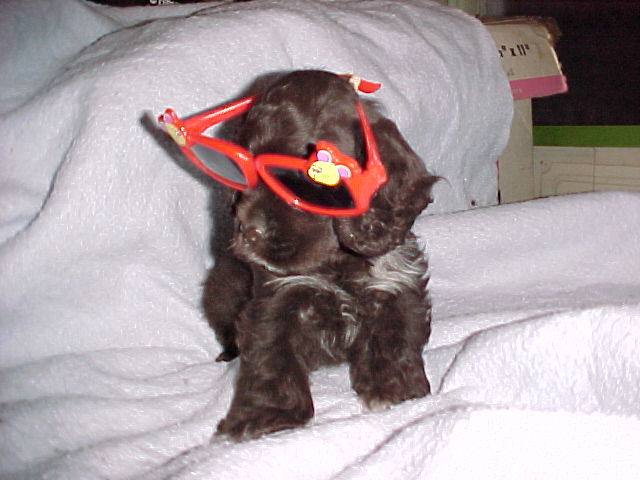 LITTERBOX!!

Send your upcoming litter notices to Shannon to be included next month.

Barrel Valley New Hope, CGC, TDI (brown) X CH Tell-Tail's Out Of The Blue (black/white). On September 19, had one brown tri boy.

Eye Clinic

The Collie Club of Western Pennsylvania is hosting its Eye Clinic, with Dr. Lionel Rubin, on December 8, 2002, at Meadowlands Veterinary Hospital, 1200 Washington Road, Washington, PA 15301.

Hours:  9:00 AM to 3:00 PM

Appointments: 

Barbara Linder 412-793-2811  or Emily Ladasky 724-898-1822.

Fees:  $23.00 per dog

$3.00 additional for C.E.R.F.

$65.00 per litter (under three months old)

Directions:  From Interstate 79, take Meadowlands Exit, turn left on Racetrack Road, turn right at Route 19 South, turn left 1/4 mile to Meadowlands Veterinary on left.

For those of you who are unfamiliar with the different types of certification, the C.E.R.F. certification may be, for an extra fee, sent in to be a part of your dog's permanent record with AKC, and will appear on the registration papers of any puppies produced by your dog.

The American Spaniel Club's Health registry accepts the non-CERF certification (the one for $23 at this clinic).  After receiving the "Eye Papers", you must mail the original (be sure you make a copy to keep, for "just in case") along with a copy of the dog's registration papers, to:

ASC Health Registrar,

Judy P. Iby

5471 Mt. Zion Road

Milford

OH 45150

For further information, call 513-732-0458 before 8 PM, or e-mail jiby@cinci.infi.net

There is no fee for adding your dog's health information to the health registry, though donations are welcome.  You can also include your hip, thyroid, blood clotting factors, and other health clearances in the health registry.  You do NOT have to be a member of ASC to have your dogs included in the health registry.

********************

2002 Titleholders

CH Barrel Valley For This Moment

Barrel Valley Just In Time, CGC

Barrel Valley I'm Like A Bird, CGC

Barrel Valley Out Of Order, CGC/TDI

Barrel Valley What Women WantCGC/TDI

CH Gemstonz N KJW That's My Boy

CH Hope's Road King

Lincor's Buttercup, OA, OAJ, CGC

Lincor's It's My Turn, CGC

Regis The Egregious Barval, CGC/TDI

CH Riverside's Playing With Fire, CGC/TDI

CH Telme 'N MiFox Heart N Soul

CH Telme 'N MiFox Restless Heart

Trinity's Heavenly Fruit, CGC

CONGRATULATIONS!!!!!  to all dogs and owners. 

May 2003 bring more titles in conformation,

performance, and temperament. 

Hello everyone, my name is Miss Mollie. I would like to find a nice family

to adopt me. I live with my foster mommy and all my dog family in Franklin,

Pa.  I am a good girl, at least that is what my foster mom says. I am about

4 years old. I am a black cocker spaniel and mom says I am very petite. I am

spayed and up to date on all my shots. I like just about everything,

including running. That is why mom says I must have a fenced in yard. I try

to be good in my obedience but sometimes I forget.  These are some of the

things I love to do. I love to snuggle (the closer the better), I love to

kiss, I love to sing, I love kids and I don't mind other animals as long as

they are nice to me. I am full of energy and very quick so that gets me into

trouble. But if you would love me I would love you back. Mom says that you

by mail Cathy Runninger, 5024 Georgetown Road, Franklin, PA 16323. Thank

you, Miss Mollie

Cathy Runninger, Franklin, PA